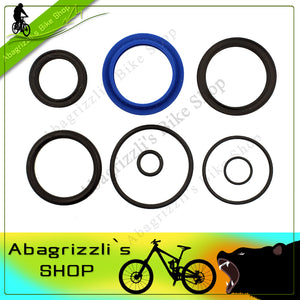 RaceFace Turbine Dropper Post IMPROVED Service Kit
Regular price $52.50 Sale
RaceFace Turbine Dropper Post IMPROVED Service Kit
Please check that there's no scratches on the shaft. Small scratches should be sandpapered before servicing.
The kit does not include bushings, there's no need in them for the dropper post to perform.

The kit is the product of many years of experience and research, brought to you by
Sheeep Suspension Laboratory
 - the first and only independent  suspension tuning and maintenance workshop in Israel.
Sheeep Suspension Laboratory
offers to its customers world-class tuning of their forks and shocks from any manufacturer. Each and every seal in these kits is a result of many years of try and mistake, in order to find the best. All the seals in the kits are of the best quality from high-end US and EU manufacturers, allowing the best performance, tolerance and endurance of the suspension. The seals are made in US and EU, none from China or other Asian countries.
This oil&air seals kit is created for maintenance/rebuild of KS Lev dropper post oil cartridge.